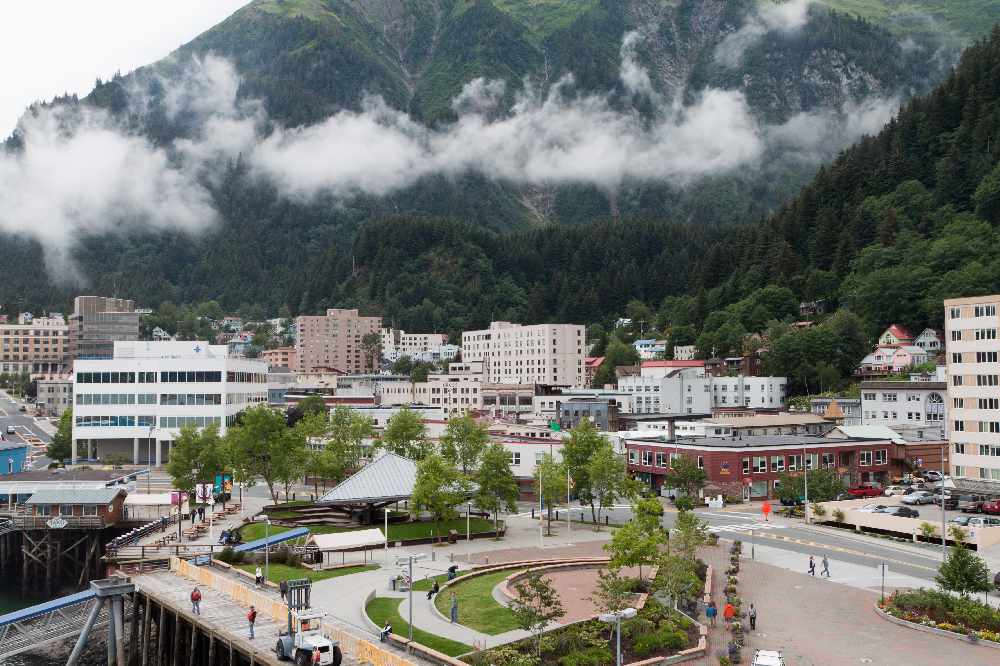 Juneau, Alaska (KINY) - The Juneau Assembly voted to extend the COVID-19 Community Mitigation Strategies emergency ordinance, previously set to expire at the end of this month, until October 31 of this year during a special meeting Wednesday night.
Most of the measures and risk metrics are the same as before, with some slight revisions. One such change is to add a green, "all-clear" level. The green level would be reached when 97% of the population has had the opportunity to be fully vaccinated. In Juneau, the Emergency Operations Center estimates that would occur about six to seven weeks after COVID vaccines are authorized for children above the age of two.
Emergency Planning Chief Robert Barr said a change that they made was in the minimal or level one yellow level. The city has had three different categories connected to different vaccination rates in the community, but those were combined into a single minimal level. "Namely because once we're back into the minimal category we will have reached, what was level 1C, that high vaccination rate level. The difference between 1C and 1D was really small," Barr said.
The Emergency Operations Center added language recommending masking for fully vaccinated individuals at the moderate level, Barr said this is already the current guidance.
Gym capacity was increased from 25% to 50% at the high-risk level. Language was added permitting small group fitness classes in gyms for fully vaccinated individuals at both the moderate and high-risk level. "That evolved out of conversations with the fitness and gym industry indicating that they were seeing a demand for those classes and wanting to fill that," he said. "Talking through their mitigation practices, and looking at the risk level for fully vaccinated individuals versus unvaccinated individuals, we felt like that was an appropriate, or reasonable I should say, change to make at those levels."
Waiting area language was changed under personal services from none to 50% capacity at the moderate risk level, which Barr said also evolved out of conversations with personal service related businesses. "It makes sense because that is the same type of restriction that we are applying to other businesses at that level," he said.
There are no size limits for fully vaccinated gatherings at the high-risk level. Barr said this was based on the information data knowledge that they have from public health and the scientific community that the risk is significantly reduced for fully vaccinated gatherings.
During this meeting, there was the opportunity for public testimony. Those who testified called for more public input on mitigation measures and mandates before they are put into effect. Maintained that those who want to be vaccinated already would be by now. Shared their concerns about the mental health impacts of the mitigation measures, and expressed fatigue and exhaustion for themselves or their children over COVID protocols. Some members of the public called in to show support for the Assembly members and the decision before them.
After the public comment period was over, Assemblymember Carole Triem suggested an amendment that strikes out fines from the measures. "We had a testifier earlier talk about the punitive nature of having a fine associated with these mitigation measures, and I think he made a very good point that, at this point, a punitive measure is really not going to help get us where we're going, and I'm pretty sure that there haven't been any of these fines given out," Triem said. The amendment passed unanimously.
Assemblymember Greg Smith asked a series of questions of the Emergency Operations Center, his first was asking if the mitigation measures would help facilitate in-person learning again this school year. Deputy City Manager Mila Cosgrove said that is not an Emergency Operations Center decision but a school district decision. "I can't imagine however, in making the decisions, that the school board and the superintendent won't look at the current case count in the community, that's particularly relevant," Cosgrove said. "I think we're all in agreement that the best place for kids is in the classroom with their teachers and I think the district is striving to make that happen, and I think we would like to be supportive of that outcome."
The second question Smith asked was whether local health authorities support these measures. Cosgrove said they do, and that both the hospital incident commander and public health incident commander believe the mitigation measures remain relevant given where Juneau is at.
Smith's third question was whether businesses can create their own mitigation plans. Cosgrove said the Emergency Operations Center do their best to work with whatever entity is trying to stay open. "As an example, a bar or restaurant wants to have hours that are only for fully vaccinated people and they talk with good masking in between, we would certainly talk with them and work with them," she said. "The goal is not to shut businesses or impair economic activity, the goal is to stay as open as we possibly can."
The COVID 19 Community Mitigation Strategies extension passed unanimously and will now be in effect until October 31 of this year.