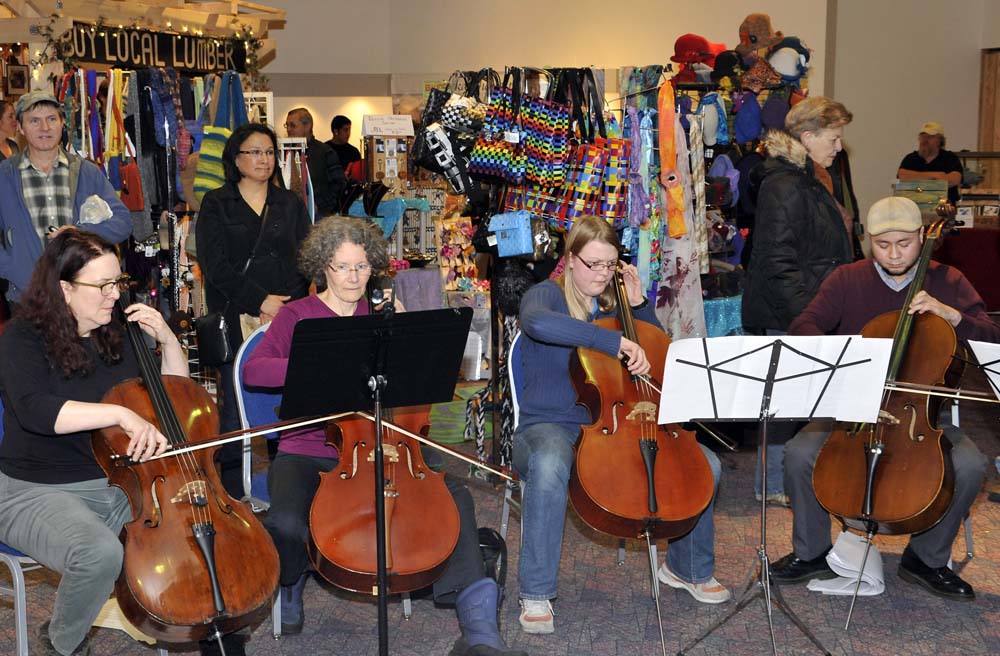 Photo from previous Public Market, courtesy of the JPM website.
Juneau, AK (KINY) - One of the most festive starts to the holiday season in Juneau is the Public Market that occurs the weekend after Thanksgiving and organizers are preparing with improvements to parking and having more vendors. 
Peter Metcalfe recently spoke to us about the traditional showcase of Alaskan creators. This year there will be several buildings to shop in and a quick way for people to get from location to location.

"We have added Elizabeth Peratrovich Hall as our third venue, which adds about another 50 vendors, then we have Centennial Hall and the JACC. In addition to that, SLAM is hosting an artist market at the same time. So if you think of the Willoughby District as a campus, we have four things happening there."
"We've also arranged for the Juneau Tours trolley bus to do a constant circuit through that neighborhood."
One of the biggest improvements for this year has been an expansion of parking options.

"We've had a glass ceiling over the last ten years due to parking. However, this year we have more parking than ever before. Courtesy of SLAM, they're opening their parking for the museum. Elizabeth Peratrovich has another 80 spaces or so. The Juneau District Heating Company has generously allowed us to use their parking lot, directly across from Centennial Hall. So we have more vendors and parking than ever before."

Historically, the Juneau Public Market was one of the first major shopping weekends for the borough.

"The Juneau Public Market was probably the first Black Friday event in Juneau and 1983 is when we got started. From the get-go, it was extremely popular and it was a new thing in the brand-new Centennial Hall at the time. From the very nature of it, we have a lot of vendors, they have a lot of friends, word got out. It quickly became a Juneau tradition as a start to holiday shopping."

He tells us that most of the Alaska Native artists will be at Elizabeth Peratrovich Hall and they eventually want to expand that to the level of what is offered each year at the Alaska Federation of Natives. Metcalfe says that they started sharing that idea at this year's AFN.

Overall, Metcalfe calls this event a happy occasion and a perfect way to visit with family and friends.
"Nothing is happier than the Public Market. So many of us will visit with friends that they haven't seen all year. It's a good way to get the holiday season off to a good start."
More information about the Juneau Public Market can be found on their website.