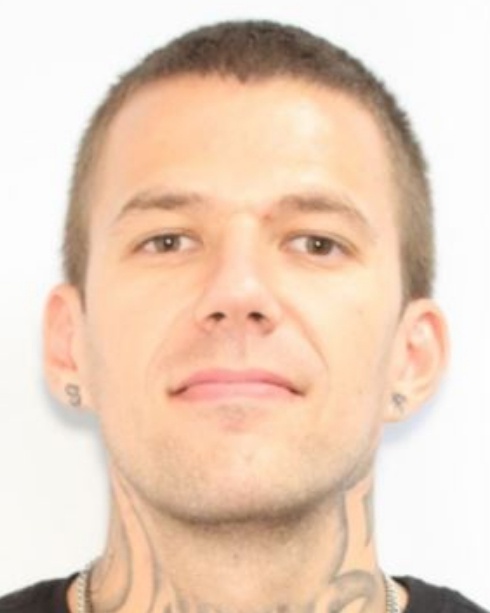 Micah Nelson
Juneau, Alaska (KINY) - Juneau police are still on the hunt for missing felon Micah Nelson, but now he is alleged to be adding on new charges.
According to a Juneau Police Department press release, on Oct. 22 at about 2:20 p.m., the department received a report of a 33-year-old female who was bleeding from the head in a white PT Cruiser, located in a parking lot located in the 9400 block of Glacier Highway.
Capital City Fire and Rescue was dispatched and after arriving on the scene, reported to JPD the female had been assaulted and they were transporting her to the Bartlett Regional Hospital.
At the hospital, the female told police that she had gone to the bank to make a deposit for her work. While leaving the bank, she said she was followed by a 28-year-old male, who is known to her. He was reportedly was driving an older black Chevrolet extended cab pickup.
"The female pulled into a parking lot in the 9400 block of Glacier Highway, and then the male got out of the truck and got into her vehicle. The female told police that the male had a pistol and was trying to talk with her. The female asked the male to get out of the car, but he refused. At one point, the male removed the keys from the ignition. When the female tried taking the keys back, the male threatened the female by saying if she didn't talk with him, he was going to shoot her and beat her up. While holding the pistol, the male repeatedly punched the female in the face and head. The male left the area in the black pickup and a witness called 911."
The female sustained a large laceration on her forehead, but the injury is not considered life-threatening.
The black pickup was later located in the area of Rainbow Row, but nobody was inside the vehicle.
The Juneau Police Department is seeking public assistance in locating Nelson for questioning in this assault. Additionally, Nelson has a $100,000 warrant for his arrest.
Anonymous tips can be made at www.Juneaucrimeline.com. Nelson is considered to be armed and dangerous.